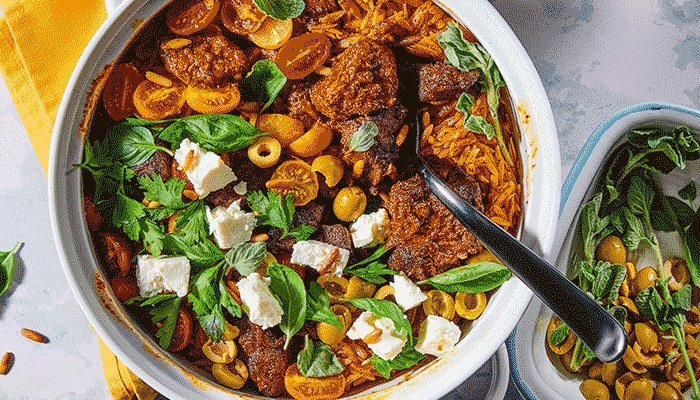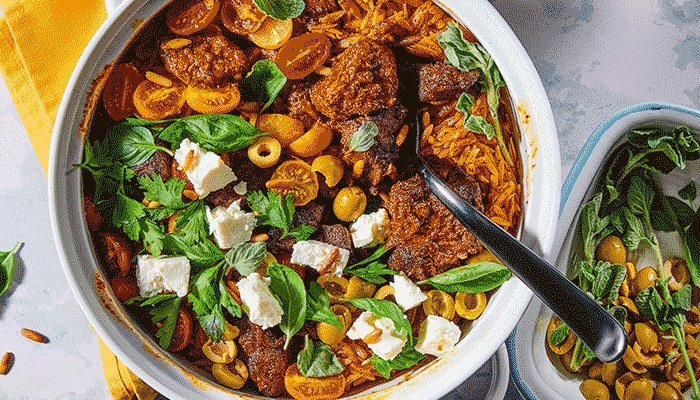 Lamb shoulder and orzo
This Moroccan lamb orzo bake is super-delicious and all comes together in one pan. Serve it for a special weeknight dinner or a big family weekend lunch.
Goody Kitchen
Recipe by: Goody Kitchen
1

Preheat the oven to 180C. Set a large heatproof baking dish with the oil over a high heat. Brown the lamb on all sides until golden. After 5 minutes, add the red onion, herbs and spices. Pour in the tomatoes, stir together, then cover with foil.


2

Roast the lamb in the oven for 90 minutes, remove the foil, mix the lamb again, then roast for 30 minutes more.


3

Sprinkle in the orzo and add the chicken stock. Re-cover with foil and bake for 45 minutes more, adding the tomatoes for the final 15 minutes, until the lamb is tender and the orzo is al dente.


4

Remove from the oven and leave to cool slightly. Mix the olives, lemon zest and juice, feta, parsley and pine nuts together then sprinkle over the lamb to serve.
%comment%
2 Replies
reply
Thank you, your comment is under review and will be posted as soon as approved