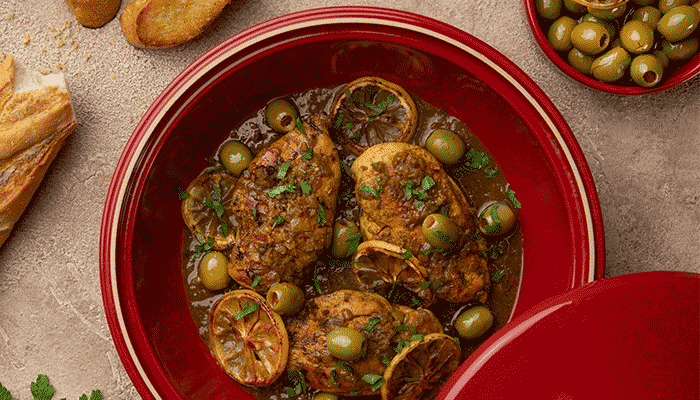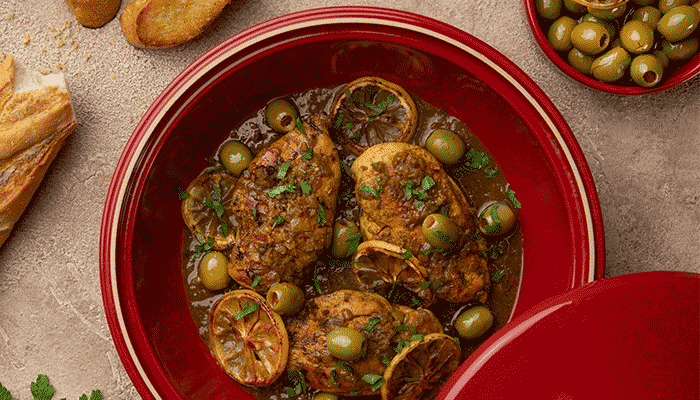 One Pan Moroccan Lemon Olive Chicken
All the delicious taste in one single pan… a rich meal of chicken and herbs combining all healthy ingredients for your family!
Goody Kitchen
Recipe by: Goody Kitchen
1

Pat the chicken breasts/thighs dry with a paper towel. Set aside.


2

Heat a large saute pan with a lid over medium high heat.
Add the lemon slices and cook until slices are caramelized. About 3 minutes. Remove the lemon slices and reserve.

3

Heat olive oil over medium high heat.When the oil is shimmering, add the chicken breast/skin side down.Cook for 3- 5 minutes until chicken is browned. If chicken releases easily from the pan, it's ready to turn.Turn chicken and cook until remaining side is browned.

4

Remove chicken to a plate and set aside.Add remaining 1 Tablespoon of olive oil to the pan.Add the onions and cook, stirring frequently, until the onions are soft and translucent - about 7 minutes.Add the garlic, ginger, paprika, cumin and turmeric, cinnamon and pepper.Stir for about 1 minute.Add the saffron water and regular water. Stir, scraping up the brown bits on the pan.
Add the chicken pieces back to the pan.Bring the mixture to a boil.

5

Reduce the heat, cover and simmer for 15 minutes.Check the chicken for doneness.Remove the lid and add the olives, preserved lemon and fresh lemon juice. Stir to combine.

6

Serve over couscous or rice.Garnish with the lemon slices and fresh parsley.

%comment%
2 Replies
reply
Thank you, your comment is under review and will be posted as soon as approved