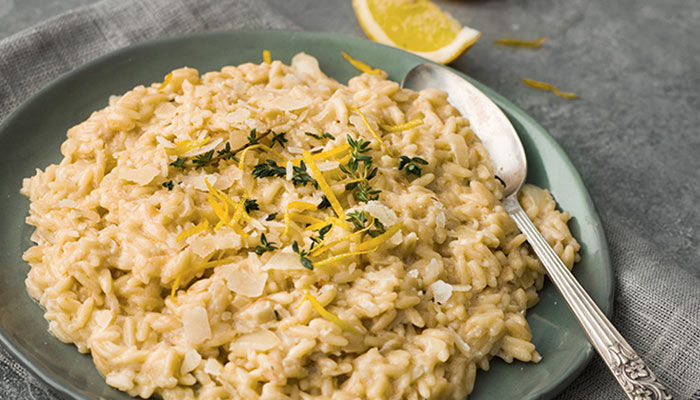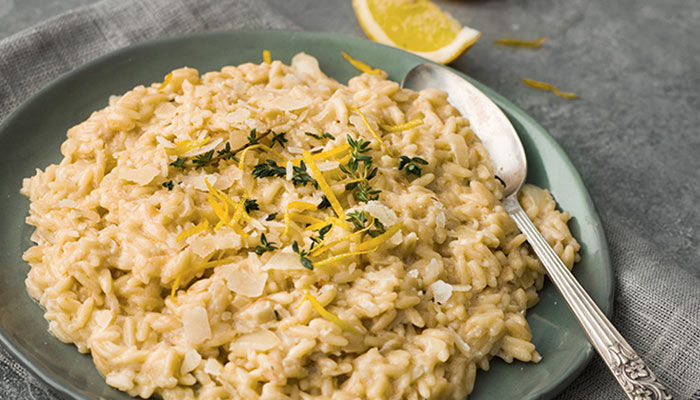 Orzo Risotto
If you love risotto but want to make the hearty dish a little lighter, try swapping rice for orzo. Using this short-grain pasta cuts down on preparation time (less stirring!) and means the dish is quicker to cook as well. Fold mascarpone, parmesan and lemon juice through our orzo risotto at the last minute for a gorgeously creamy, citrussy finish.
Goody Kitchen
Recipe by: Goody Kitchen
1

Heat oil and butter in a frying pan; and then sauté the onions until they become translucent. Add the garlic, thyme leaves and the orzo; mix with a wooden spoon until all the orzo is coated in oil and glistening. Pour in the stock a little at a time, continuing to do so until the orzo absorbs the stock. Keep doing this until the orzo is cooked through. Turn off the heat and stir through the mascarpone, parmesan cheese and lemon juice. Season with salt and serve.
%comment%
2 Replies
reply
Thank you, your comment is under review and will be posted as soon as approved
Dinner
Italian, "main dish", Orzo, Pasta