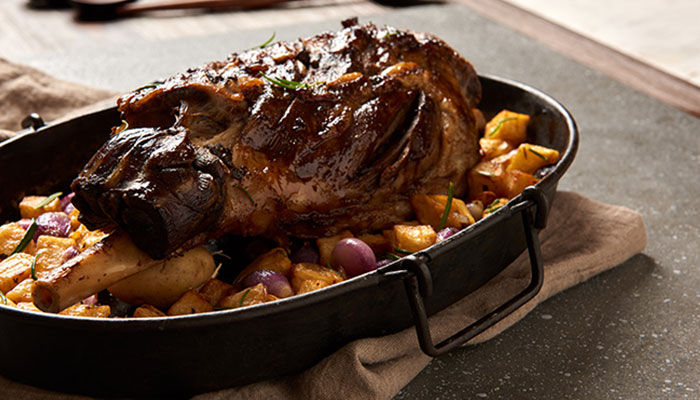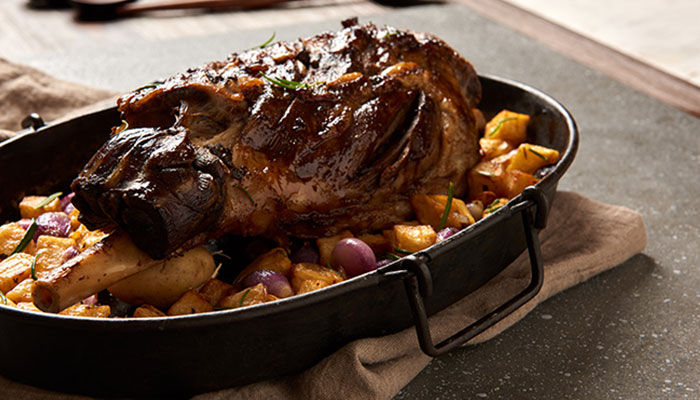 Oven Lamb Thigh
A real one-pot wonder of a recipe. Our oven lamb thigh is hearty, satisfying and quite simply packed with rich, sweet-savoury flavour courtesy of various clever ingredients (think Goody Sparkling Grape Juice, Goody Natural Sugar Cane Vinegar and both Worcestershire and soy sauces). This tasty dish would make a wonderful addition to an Eid table.
Goody Kitchen
Recipe by: Goody Kitchen
1

Take out the lamb from the refrigerator and leave it at room temperature for an hour; then set the oven on the grill function at 180oC.

2

Mix the seasoning ingredients together and set them aside.

3

Season the lamb with a little salt and black pepper; and using a sharp knife, make several cracks on both sides.

4

Grill the lamb in the oven for 5-7 minutes on all sides, then take it out of the oven and reset the temperature to 190oC.

5

When the lamb becomes somewhat warm, place the chopped garlic pieces inside the lamb, and cover the meat with the seasoning from all sides. Afterwards, cover the sheet with tin foil and place it in the middle of the oven for an hour and a half.

6

Take off the tin foil and let the thigh browns and the seasoning thickens for 15 minutes.

7

Season the potatoes and onions with paprika, garlic powder, and a little salt and black pepper, and then add it to the lamb sheet.

8

Return the sheet to the oven for 15 minutes or until the potatoes are cooked. Take the sheet out of the oven and serve hot.
%comment%
2 Replies
reply
Thank you, your comment is under review and will be posted as soon as approved
Lunch
Khaliji, Lamb, "main dish", Meat