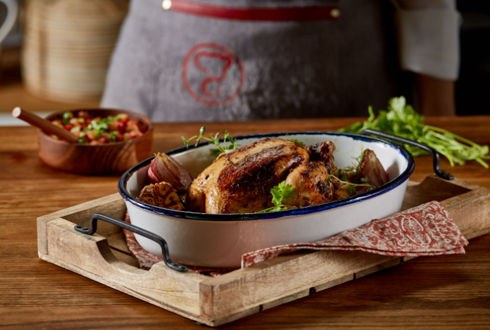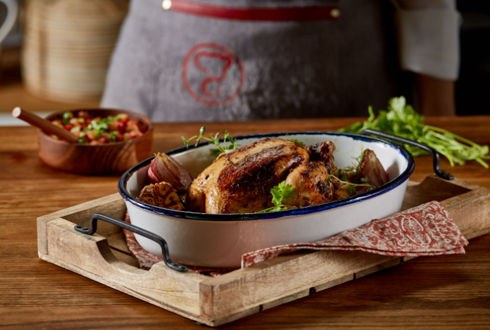 Oven-Roasted Chicken
Look no further – your search for the perfect oven-roasted chicken is over. In our contemporary twist on a reliable crowd-pleaser, the chicken is brushed with a flavourful, chilli-spiked mayonnaise mix before being cooked until the skin is crisp and tinged with gold and the meat juicy. Serve with extra spicy mayo, roast potato wedges and your favourite vegetables.
Goody Kitchen
Recipe by: Goody Kitchen
1

Heat the oven to 210° C.

2

Wash the chicken well and dry it with paper towels. Season it from outside and inside with the coarse salt; and then tie the legs together with the cooking twine. Refrigerate it an hour to allow the salt to break through the meat.

3

In a large bowl or measuring cup, mix the mayonnaise sauce's ingredients and keep a cup of sauce to coat the chicken surface with brush, while it is in the oven.

4

In an oven sheet, greased with olive oil or any cooking oil, sprinkle half the amount of thyme, sage, onion and garlic. Afterwards, season well the chicken from inside and outside with the Mayonnaise seasoning from all sides, then sprinkle the rest of the herbs (thyme and sage) and black pepper on it, and place the rest of the vegetables (onions and garlic) beside the chicken.

5

Place the chicken in the oven for 50-60 minutes and coat the chicken surface with the remaining seasoning using a brush every 15-20 minutes.

6

When the chicken is cooked, cover it with tin foil and leave it in the sheet for 20 minutes; so as to allow the chicken to reabsorb the juice to keep it tender.
%comment%
2 Replies
reply
Thank you, your comment is under review and will be posted as soon as approved
Lunch
Chicken, egyptian, "main dish", Roasted