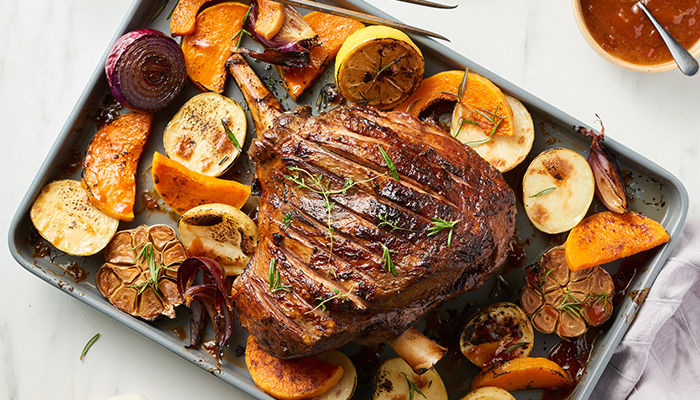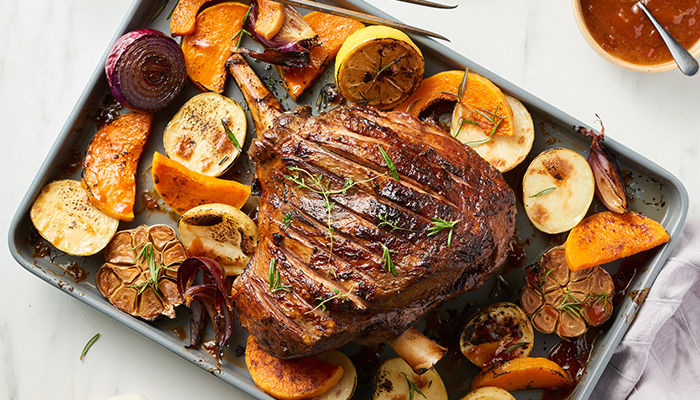 Roasted leg of lamb with vegetables
Wow family and friends with this stunning roasted leg of lamb, marinated in Goody Greek Mint Yogurt and served with roasted vegetables and a caramelised onion gravy

Goody Kitchen
Recipe by: Goody Kitchen
1

Preheat the oven to 200C. Use a sharp knife to score the flesh then rub the rosemary, thyme and yogurt in to the flesh. Season really well. Put the lamb leg in your largest roasting tray with a rack. Roast for 15 minutes then reduce the oven to 180C.


2

Tip the vegetables in to the tray below the lamb, drizzle with 2 tbsp olive oil and mix in the paprika and whole head of garlic. Continue to cook for 45 minutes, or until the lamb is done to your liking and the vegetables are roasted.


3

Remove from the oven and leave the lamb to rest. Transfer the vegetables to a serving dish.

4

Make a quick gravy. Set the roasting tray over a high heat. Dissolve the cooking juices and add the red onion marmalade and flour. Cook for 2 minutes then add the boiling water. Bring to a boil, cook for 5 minutes then serve with the lamb and vegetables.
%comment%
2 Replies
reply
Thank you, your comment is under review and will be posted as soon as approved