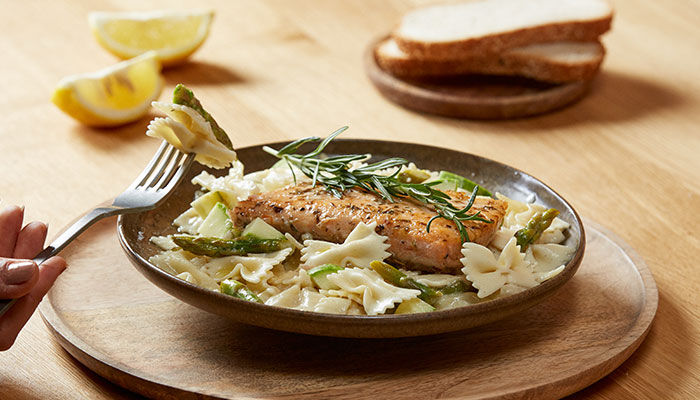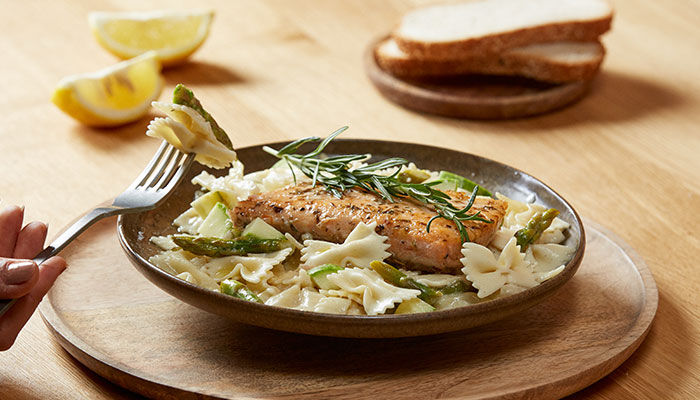 Salmon and Asparagus Farfalle in Cream Sauce
As simple as it is elegant, this two-step recipe for salmon and asparagus farfalle in cream sauce can be whipped up on a weeknight but would work equally well as a special occasion meal. Wrapping the salmon in foil before baking in the oven is a great way to ensure that the fish stays wonderfully moist as the pasta cooks.
Goody Kitchen
Recipe by: Goody Kitchen
1

Season the salmon steaks with olive oil, dill and salt and pepper and wrap in aluminum foil. Place on a baking sheet and put it in a preheated oven at 180 degrees for 25 minutes. Set aside.

2

Cook the farfalle as per the instructions on the packet. Drain.

3

In a frying pan, heat the butter and fry the garlic. Add the zucchini, add the cream and cook for 5 minutes. Add the asparagus, lemon juice and mustard; season with salt and pepper.
%comment%
2 Replies
reply
Thank you, your comment is under review and will be posted as soon as approved
Dinner
Farfalle, Farfalli, Italian, "main dish", Pasta