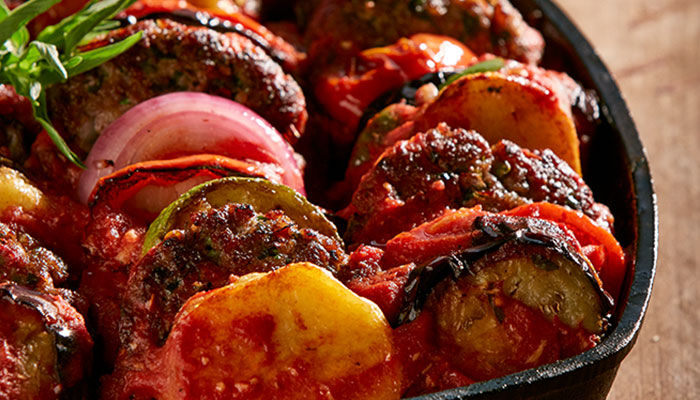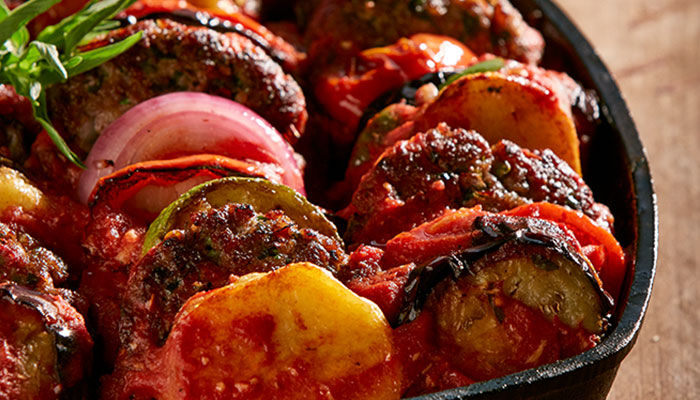 Turkish Kofta With Vegetables
This is no ordinary version of the Middle Eastern favourite. In our recipe for Turkish kofta with vegetables, handmade koftas are layered with potatoes, onions and peppers, bathed in a tomato-rich sauce and baked. This vibrant symphony of colour and flavour can be served folded through pasta, piled onto flatbreads, added to an on-trend hummus bowl or enjoyed as is.
Goody Kitchen
Recipe by: Goody Kitchen
1

In a deep bowl, mix together the minced meat, salt, bell peppers, paprika, onions, parsley and bread crumbs. Shape the mixture into Kofta discs, and then arrange them with the vegetable slices consecutively; place a Kofta disc, then a potato slice, followed by a Kofta disc, then green bell pepper, then Kofta .and so on until the amount ends.

2

Place the canned tomatoes, garlic cloves, vinegar, spices and chicken stock cube in the blender; mix well. Afterwards, pour the mixture over the Kofta and place the sheet in the oven at 350 degrees for 30 to 40 minutes.Afterwards, serve the dish to your family with bread, rice or pasta.
%comment%
2 Replies
reply
Thank you, your comment is under review and will be posted as soon as approved
Lunch
Kofta, "main dish", Turkish, Vegetable