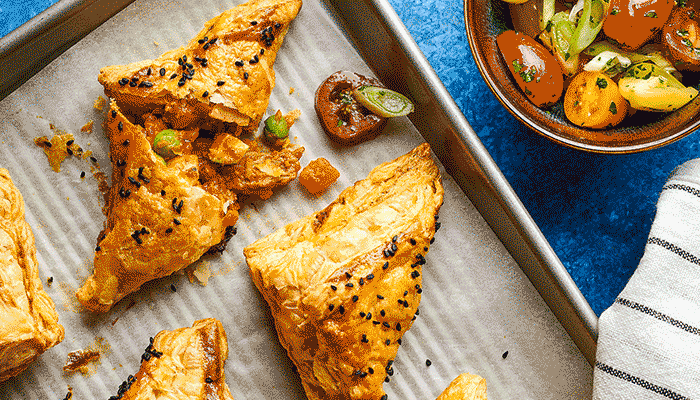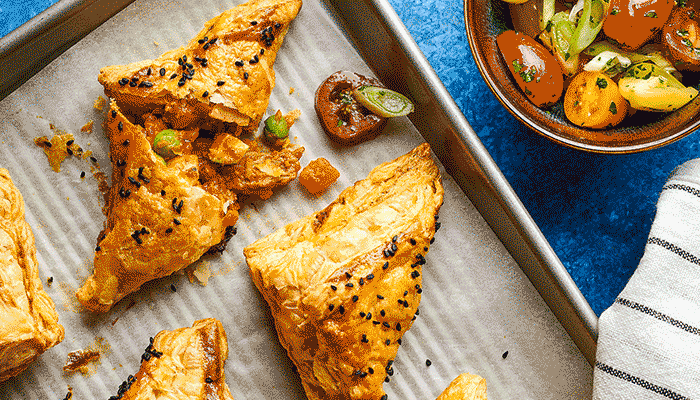 Easy Margoog-Filled Beraks With Truffle Tomato Sauce
Savor the rich blend of flavors in our Easy Margoog-Filled Beraks paired with Truffle Tomato Sauce. Elevate your dining experience.
Noha Baik
Recipe by: Noha Baik
1

Set a large saucepan with the oil or ghee over a medium-high heat. Brown the onions for 4-5 minutes then add the meat. Cook until the lamb is browned all over.

2

Stir in the spices and the garlic, then add the tomato sauce and 2 litres water. Bring to the boil, reduce to a simmer and cover with the lid. Cook for 1½ hours, or until the lamb is fork-tender. Remove the lamb from the sauce and keep warm. Add the vegetables to the pot and cook for 15 minutes.

3

Shred the lamb then return to the pan with the vegetables and mix well. This will be your filling. Leave to cool.

4

Preheat the oven to 180C. Lay the pastry squares on a baking tray lined with baking paper. Put 1 tbsp filling in the middle of each square (being careful to not bring too much sauce). Brush the border with egg wash then gently fold the pastry over the filling to make a triangle. Press to seal, brush the top with egg wash and sprinkle with nigella seeds.

5

Bake for 25-30 minutes, or until the pastry is golden, puffed and cooked through. Serve with extra tomato sauce on the side, or a side salad of cherry tomatoes and onion.
%comment%
2 Replies
reply
Thank you, your comment is under review and will be posted as soon as approved