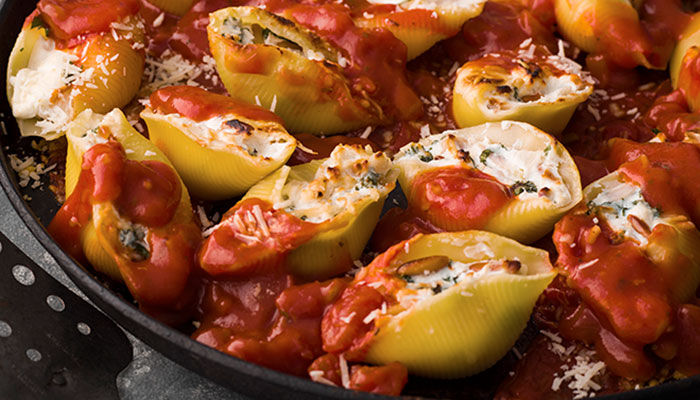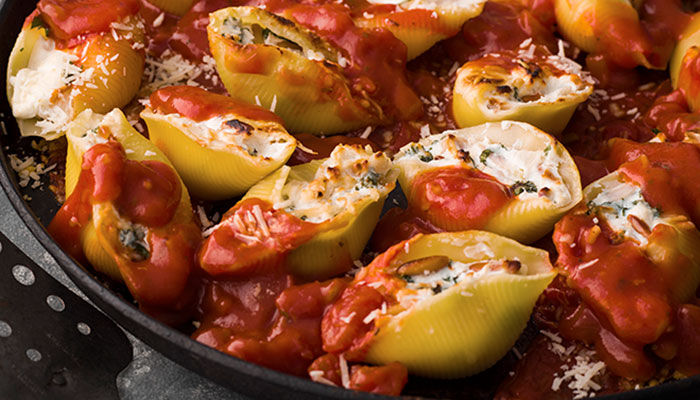 Conchiglioni With Kale and Ricotta
A classic Italian dish is given a Goody Kitchen makeover in this conchiglioni with kale and ricotta recipe. Using a mix made from trendy kale and soft and creamy ricotta to stuff the conchiglioni makes for a lighter than usual filling, but thanks to the addition of Goody Napoletana Pasta Sauce still delivers bags of flavour.
Goody Kitchen
Recipe by: Goody Kitchen
1

Cook the Conchiglioni as per the instructions on the packet. Drain and put it under cold water.

2

In a frying pan, heat the oil and cook the onions until they become soft.Remove the kale leaves from the stalks, shred roughly and add to the onions.Add the ricotta cheese, parsley and toasted pine nuts, and the season with salt and pepper.

3

With a teaspoon, stuff each shell with the ricotta mixture. Place on a baking tray.Pour the tomato sauce over the stuffed Conchiglioni. Place in a preheated oven at 180 degrees for 20 minutes. Sprinkle Parmesan over the pasta and serve.
%comment%
2 Replies
reply
Thank you, your comment is under review and will be posted as soon as approved
Dinner
Conchiglioni, Italian, "main dish", Napoletana, Pasta