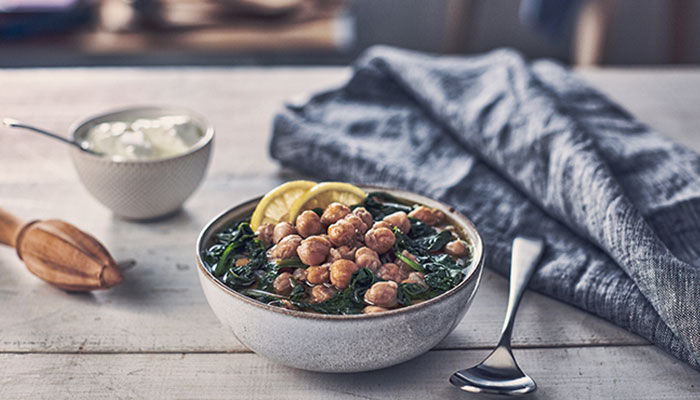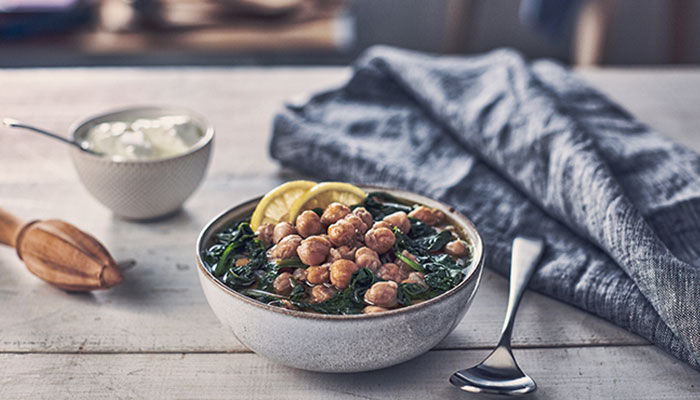 Palestinian Spinach and Chickpea Stew
Vegetarians and meat-eaters alike will adore this hearty and wholesome one-pot meal. The ideal dish for those looking to increase their meat-free cooking skills, this tasty, easy-to-make (it can be on the table in 15 minutes) Palestinian spinach and chickpea stew is packed with flavours, textures, and goodness. Serve with warm bread for mopping up the zesty sauce.
Goody Kitchen
Recipe by: Goody Kitchen
1

In a medium pot over medium heat, add 2 tablespoons of olive oil. Once hot, add the onion and cook, stirring occasionally, until softened and slightly translucent.  Add cumin and coriander to the pot of onions. Add the garlic, allspice, black pepper, and nutmeg, stir well, and continue cooking until the garlic is fragrant Add Goody chickpeas and water, bring to a boil, then lower the heat to maintain a strong simmer. Then add spinach Then, add the lemon juice, salt, and the remaining 2 tablespoons of olive oil. Cook for 5–10 minutes, then adjust the seasoning, adding more lemon juice or salt as desired.
%comment%
2 Replies
reply
Thank you, your comment is under review and will be posted as soon as approved
Lunch
Chickpea, Lebanese, "main dish", Mediterranean, Spinach, Stew