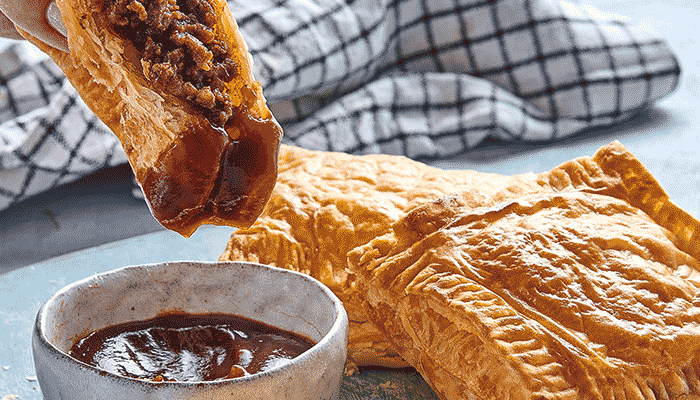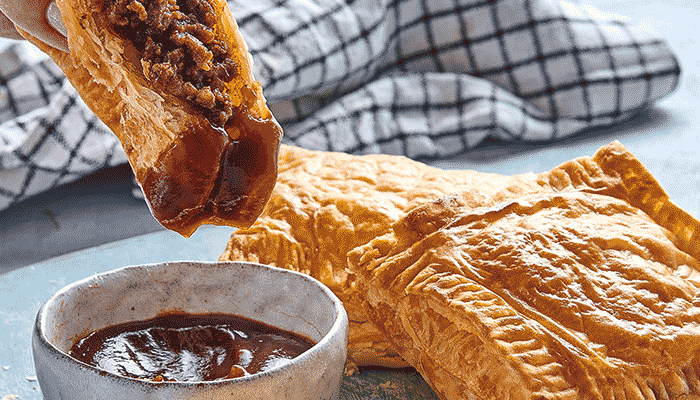 Flaky Meat Pies with Smoky BBQ Sauce
This simple and delicious puff pastry recipe is simple to make, full of protien, and packed with delicious beefy BBQ goodness!
Goody Kitchen
Recipe by: Goody Kitchen
1

In a medium skillet, melt the butter and sauté the onion until transparent. Add garlic and continue cooking until fragrant.Add the minced meat and cook until it changes color, stirring constantly.Add salt, black pepper, thyme, and beef broth.

2

Let it simmer and add Goody smoky BBQ sauce. Let it cook until thickened. Set it aside to cool.


3

Preheat the oven to 180°C (350°F).

4

On a baking tray lined with parchment paper, place 5 pieces of flaky pastry. Fill each piece with the meat mixture in the center, evenly dividing the filling.
Place another piece of flaky pastry on top of each and use a fork to seal the edges on both sides of each piece.
Brush each pie with the beaten egg and milk mixture, then use a knife to create a small "X" cut in the center of each.


5

Bake in the oven for 25-30 minutes, or until they turn golden.Allow them to cool before serving or store them for later.
%comment%
2 Replies
reply
Thank you, your comment is under review and will be posted as soon as approved