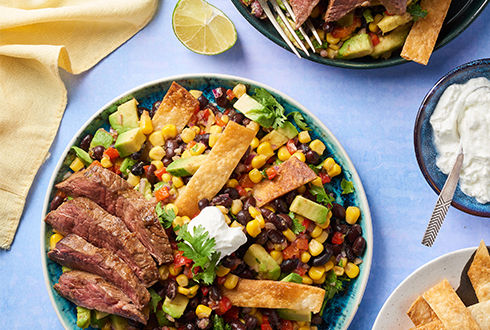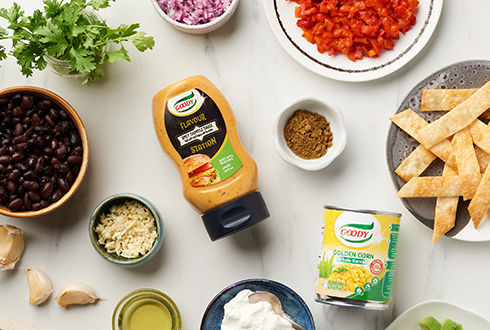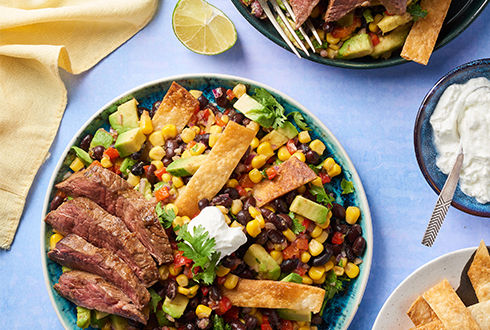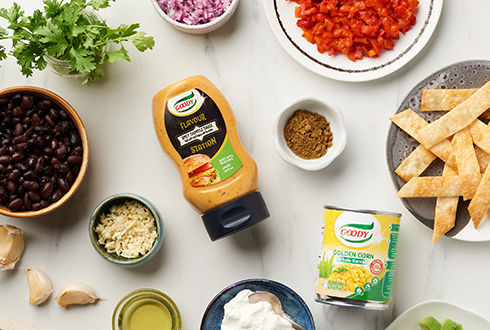 Steak Taco Salad
When summer calls, light flavours come. Take these fresh, fantastic ingredients to make a zesty, crunchy steak taco salad – mouthful after mouthful of everything you love about Mexican food
Goody Kitchen
Recipe by: Goody Kitchen
1

For the steaks, marinate the sirloin steaks with 1 tbsp olive oil, the garlic, cumin, mayonnaise and the juice of 1 lime for 30 minutes or ideally 2 hours.


2

Sear the steaks in a hot frying pan for 2-3 minutes on each side, or until cooked to your liking. Thinly slice and season.


3

For the crispy tortillas, coat the flour tortillas with 1 tbsp olive oil and bake in an oven preheated to 180C for 8-10 minutes, or until golden.

4

To make the corn salsa, combine the sweetcorn, red pepper, onion, coriander and the juice of ½ lime in a bowl. Season.

5

To assemble the salad, put the corn salsa, steak, black beans and avocado in a bowl and lightly toss with your hands. Top with the crispy tortilla strips, coriander and sour cream to serve. Garnish with lime wedges and coriander.

%comment%
2 Replies
reply
Thank you, your comment is under review and will be posted as soon as approved
Dinner
Mexican, Salad, Taco