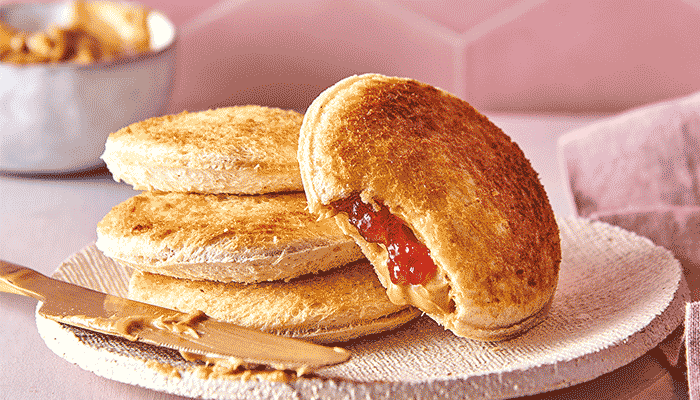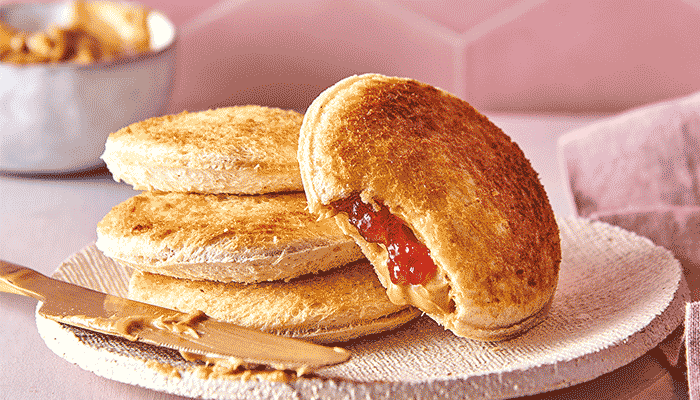 Peanut Butter and Jam Toast
Quick and delicious treats your whole family can enjoy, packed with Goody's peanut butter to give you energy and keep you light on your feet.
Goody Kitchen
Recipe by: Goody Kitchen
1

Place 4 slices of bread on a cutting board.


2

Spread a tablespoon of smooth peanut butter onto the center of each slice and spread it slightly with a spoon.


3

Add a teaspoon of jam on top of the peanut butter on each slice. Place another slice of bread on top to make a sandwich.


4

Use a cookie cutter or a cup to press gently around the filling, similar to making a pie. Then press firmly using the cutter to cut the bread into halves.
Remove the crusts (you can toast them for later use as breadsticks or grind them for breadcrumbs), then gently remove the sandwich from the cutter.


5

Optionally, you can place the sandwiches on a baking tray lined with parchment paper and brush them with oil or butter. Toast them in a preheated oven for about 3 minutes until they turn golden.
Allow them to cool and enjoy the delightful taste!
%comment%
2 Replies
reply
Thank you, your comment is under review and will be posted as soon as approved