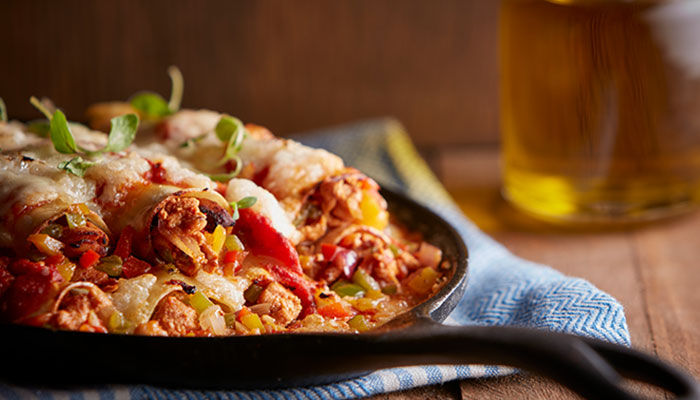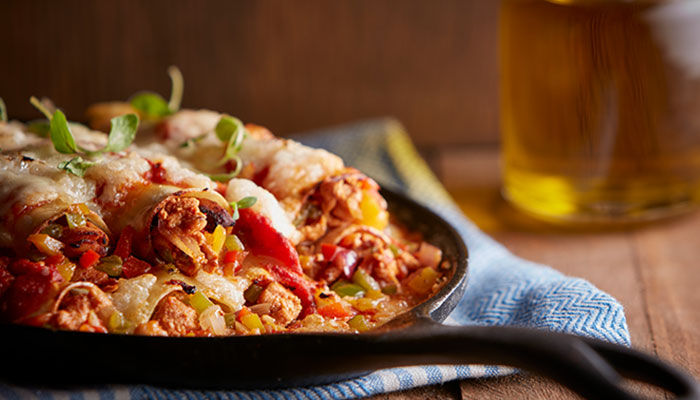 Cannelloni Fajitas
It doesn't get more creative or more child-pleasing than this super-smart fusion dish. Our take on a Mexican favourite, cannelloni fajitas, sees pasta tubes filled with smoky, slightly spicy marinated chicken, covered with a blanket of cheesy béchamel and cooked until golden and bubbling for a delicious enchilada-style bake.
Goody Kitchen
Recipe by: Goody Kitchen
1

In a deep bowl, marinade the chicken breasts in lemon juice, vinegar, spices, salt and corn starch; set aside for at least an hour until the cooking time.

2

In a large skillet, place the oil and then add the minced onion; stir until the onion wilts. Afterwards, add the garlic and then the chicken breasts and bell peppers; place the skillet over high heat for 10 minutes, and then leave it aside to cool.

3

Put the béchamel ingredients all at once in a deep pot, and continue stirring over medium heat until the béchamel's texture becomes thin.

4

Place a thin layer of béchamel in a baking sheet, stuff the raw Macaroni Cannelloni pieces with the chicken fajita filling, and arrange them beside each other inside the sheet until the amount ends.Cover the stuffed Cannelloni pieces with the Napoletana pasta sauce, and then top it with the remaining béchamel until it is completely covered.Afterwards, sprinkle the mozzarella cheese, and place the sheet in the oven for 25 minutes at 350 degrees using the lower heat only, and then brown the top using the upper heat for 5 minutes, until the sheet turns golden.
%comment%
2 Replies
reply
Thank you, your comment is under review and will be posted as soon as approved
Lunch
Cannelloni, "main dish", Mexican, Napoletana, Pasta