Sama Jad's Special Pasta Recipe
March 4, 2021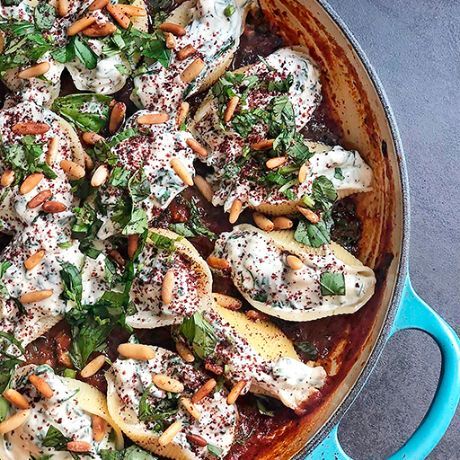 Sama's recipe of cheese and spinach stuffed pasta shells
Goody Kitchen
author
Sama Jaad says that she chose to share her recipe for indulgent cheese and spinach stuffed pasta shells for many reasons: "It's vegetarian, easy to make, and gives you a feeling of fullness," she explains. "This is a special and delicious dish, with flavours that appeal to all family members. In addition, it can be prepared in advance and reheated just before serving.
Ingredients
STUFFING:
2 tbsp Olive oil
1 Small Onion, chopped
2 Garlic cloves
4 Cups Spinach, chopped
Pinch nutmeg
Salt and black pepper
2 cups Cream Cheese
¼ cup Milk
¼ cup roasted and ground walnuts
SAUCE:
4 tbsp Olive oil
1 Onion, finely chopped
3 Garlic cloves, crushed
1 cup Goody Sieved Tomatoes
½ cup chopped basil
1 tsp paprika, dried basil and oregano
1 tsp sugar
½ cup vegetable broth
250g Goody Macaroni Conchiglioni, cooked
Pomegranate seeds and basil, to garnish
How to prepare:
For the stuffing, set a saucepan with the oil over a medium heat. Soften the onions then add the garlic and cook
For 30 seconds more.2 Add the spinach and season with nutmeg, salt and black pepper. Cook until the spinach wilts then remove from heat
Add the cream cheese and milk and mix well. Stir in the walnuts and leave to coo before stuffing the cooked pasta shells with this mix.
For the sauce, set a pan with the olive oil over a medium heat and then add onions. Soften the onions then add the garlic and stir for 30 seconds. Add the sieved tomatoes, herbs and spices, sugar, salt and pepper. Cook for 10 minutes.
Place the stuffed shells in the sauce and bake on the bottom rack of a 250°C oven for 8-10 minutes. Garnish with pomegranate and basil.