Samira Jan's Success Story
March 4, 2021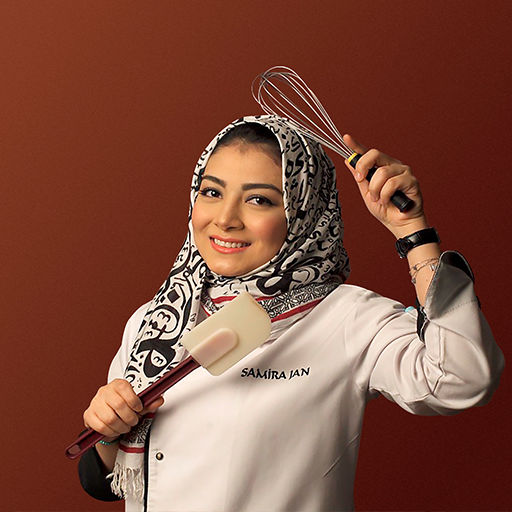 Get inspired by the story of one of the most influential pastry chefs in Saudi Arabia!
Goody Kitchen
author
In a challenging industry, Samira's rise to fame was far from hassle free. Yet, she never gave up or took no for answer. From a sweet 6year-old infatuated with culinary arts to the Kingdom's "Sweetest Lady", an accomplished French Pastry Chef, the first woman in Saudi Arabia to make gelato, and an overachieving businesswoman; Samira Jan did it all
.
This Saudi entrepreneur of Uzbek origins is today the co-founder, project manager and star chef of 'Dragées', a luxury chocolate boutique in the making. We delve into Samira's awe-inspiring tale, following her journey from overworked Commits 1 to inspiring Chef Pâtissier. I was 6 when I made my first cake; it was messy, but I did it all by myself," says Samira, whose ancestor was a cotton candy maker, uncles are restaurant owners and parents are Uzbek cuisine caterers. As a child, she often experimented with kitchen utensils rather than playing with dolls. By 9, she had mastered Arabian sweets and by 14 she was trusted to single-handedly prepare the Diyafa trays for her sister's wedding. With her many talents, Samira chose to become a French pastry chef. She looked for reliable resources to learn from but found none in Arabic. Armed with a dictionary, she started reading English books and even looked into enrolling at "Le Cordon Bleu", but her friends advised her to work
.
And so began Samira's culinary career. With her mother as her only ally, she took a Commis 1job at a bakery. "I'd wake up at 7am to commute from Mecca to Jeddah, where I'd work till 5pm before attending culinary courses with international chefs. I'd be home past midnight and sleep in my uniform sometimes, only to start again the next morning" Samira recalls. She kept pushing her boundaries, using every riyal she made to fund her self-development. Motivated by words of encouragement from top chefs she worked with and drawing strength from her mother and daughter's admiration, Samira went from one prideful achievement to another. I will never forget the first day at work. It was Mother's Day," she explains. She broke eggs like a pro, handled non-stop kitchen chores and sold cakes for 12 hours straight. Her wor wowed top executives at Valrhona, the famous French chocolate house, and the best is yet to come. "I've been attending courses in Dubai, France, Italy and Turkey where I met world-famed chefs
.
I constantly seek new courses, travel and read to keep learning and advancing", she says. Moving forward, Samira dreams big but keeps her feet pinned to the ground. She advises young culinary hopefuls to do the same: "Prove yourself. Endure hurtful criticism, stressful deadlines, standing on your feet for 15 hours and mopping the floor." Another milestone came when Samira prepared 13 chocolate and ice cream courses at the King Abdulaziz Center for World Culture Ithra in 2019. I went into the facility and saw my name on the screens. My heart almost stopped." Samira always thought that making Chocolate or "black gold" as she calls it was simple. Along the way, she has discovered a new world to explore and shape, finding inspiration in nature, women, history and cities. Today, she manages Dragées" and develops new flavours. "When I'm cooking, I like classic recipes and I keep things traditional. But when I'm creating new Chocolate flavours, I love to use bizarre ingredients that inspire a vintage feel," she adds. So far, Samira has created 22 bonbon and dragées flavours
.