Spice It
September 28, 2021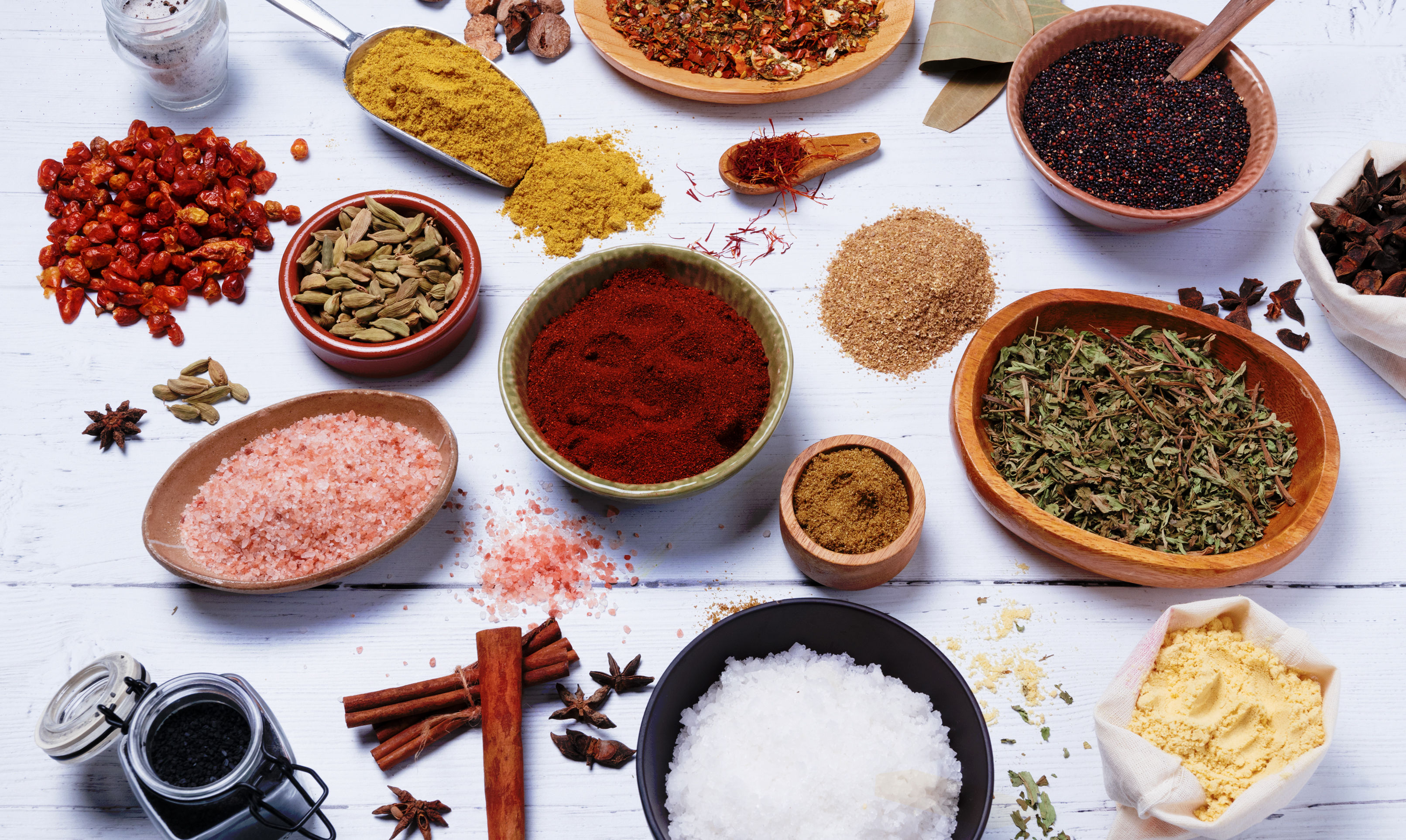 Goody Kitchen
author
Spice It Up: An In-Depth Guide to the World of Spices
Sprinkle, dash, and pinky up because you're about to be a spice queen.
Dash of Flavor to Savor
Seasoning with spices adds flavor and appeal to each meal. Along with flavor, the aroma of spices has a nostalgic sense that fills your appetite.
Cardamom adds a distinct flavor to savory dishes like harissa and kabsa and drinks like Qahwah/coffee. Cardamom is known to pair well with Cinnamon, ginger, turmeric, and cumin.
Cinnamon is famous for having a pleasant taste that complements both savory and sweet dishes--and drinks. You'll taste that hint of cinnamon in Shurba hab, jareesh, gersan, margoog, and adani tea.
Cloves have a hot yet sweet flavor is often used in soups, bread, and dessert. Used in: Shurba hab, jareesh, Kabsa, Sha'eriya, Adani tea, and Arabic coffee, contain cloves.
Coriander is a member of the parsley family with a refreshing, lemony, pungent taste and smell. Stir well with almost all Saudi dishes like bamya, molokhia, warag, potato broth.
Cumin has a smoky and earthy flavor. Cumin fuses best with garlic powder, ginger, oregano, and turmeric. Cumin enhances most Saudi dishes like; Kabsa, maglooba, mgalgal beef, and chicken m'arag.
Nutmeg is considered an intense spice with a strong aroma used mainly in rice, sauces, stuffings, and sweet and savory cooking. Nutmeg mingles well with meals containing allspice and cloves.
Saffron has a unique aroma with a subtle earthy flavor. A small pinch of saffron adds an often described floral and aromatic taste to tea/coffee and rice dishes like; zurbian rice, white rice, Arabic coffee, Karak tea.
Turmeric is a spice with a bitter and peppery taste. It is mainly in rice dishes like kabsa and biryani. It goes well with garlic powder and cardamom in chicken and vegetable dishes.
Garlic Powder can brighten dishes when the seasoning (salt) is kept on the lighter side. You can use garlic powder instead of its fresh brother for spice rubs, dressings, and bread. You can even sprinkle a bit on popcorn, fries, or savory snacks you want to give an extra kick of flavor to.
Paprika is a savory companion and a popular garnish to give a dish a pop of color with its vibrant hue. Paprika has a sweetness to it and mild heat.
Kitchen Queen Tip: It's Go Thyme
Herb based spices give dishes a unique flavor when their fresh counterparts are not available. Here's some to keep in your pantry for an aromatic depth and an added layer of flavor.
Dried Rosemary, while a fresh twig is a secret to roast, dried rosemary is equally effective as an added ingredient to a spice rub or marinade. It can also be added to soups, sauces, and stews. Be careful not to overuse; even in its dried spice form, this can pack quite an intense flavor.
Dried or ground Thyme adds an earthy flavor to any dish or ingredient. It's considered a staple in Mediterranean spreads and goes well with baked goods and savory main dishes.
Say hello to my little blend!
Spices can give a little push to your meals. Some spices blend and mix create a new flavor that might surprise your friends and family on your cooking skills.
Chilli powder has a spicy, smoky taste and aroma that emerges from paprika, cumin, and ancho chilli; and to add extra flavor, mix in some Mexican oregano. Chilli powder is a plethora of other spicy Saudi dishes like kbebat hail.
Za'atar is a unique spice blend that tastes earthy and savory. Za'atar is a blend of thyme, sesame seeds, and sumac. It is used in Middle Eastern cuisine with bread and baked eggs, veggies, and dry rubs, including everyone's favorite manaqish.
Garam masala is a mainstay spice of Indian cuisine with its intense aroma, which you'll find in various dishes containing chicken, beef, lentils, and beans. This spice is a blend of cinnamon, cloves, nutmeg, cardamom, mace, peppercorns, coriander, and cumin.
Chinese five-spice is used with meals containing eggplant, beef, duck, and tofu. The fusion of this spice is formed by star anise, Szechuan, fennel, clove, and cassia, which interestingly taste warm, bitter, and sweet at the same time.
A Hue for Every Season
Give your table seasoning a bit of personality. Shake it up with some
pink Himalayan salt
and ground
colored pepper
to instantly give your meal a gourmet feel.